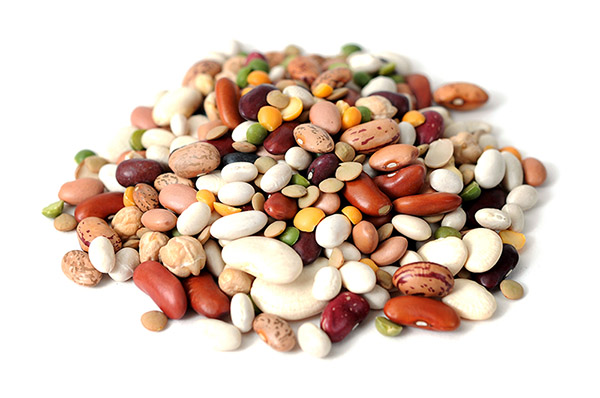 8 Ways to Use Beans
Beans, including kidney beans, chickpeas, black beans, pinto beans and more, are an excellent source of plant-based protein and fiber. They also provide folate, iron, potassium and magnesium. In addition to being packed with nutrients, canned beans are an inexpensive pantry staple that can make a great addition to meals and snacks. Looking for a new way to incorporate beans into your day? Try one of the eight simple ideas below.
1) Top salads with beans to add protein and texture. This Power Boost Salad features chickpeas, along with lots of veggies and even fruit for a colorful and flavorful entrée salad.
2) Add beans to pasta dishes, like in this Mexican-Style Black Bean & Mushroom Penne for a hearty twist.
3) Combine chickpeas, tahini (ground sesame paste), olive oil, lemon juice, garlic, salt and pepper in a food processor or blender to make a delicious hummus. Or get creative by incorporating ingredients like sun-dried tomatoes, roasted garlic, olives and fresh herbs for added flavor. This recipe for Roasted Red Pepper Hummus has a sweet, yet smoky flavor from jarred roasted red peppers. You can also make a hummus with other beans, like edamame or black beans, as the base.
4) Make roasted chickpeas by combining one can of drained and rinsed chickpeas, 2 tablespoons extra virgin olive oil, and any spices you like. Roast them for about 40 minutes at 400°F. Enjoy as snack on their own, as part of a trail mix, or as a crunchy topping to salads or rice dishes. These Ranch-Spiced Crispy Garbanzo Beans are a guaranteed crowd-pleaser.
5) Make homemade veggie burgers with a can of black beans, mushrooms, chopped walnuts and seasonings. If you have never made veggies burgers from scratch, try this fool-proof Easy Black Bean Burger.
6) Add canned beans or lentils to ground meat mixtures or swap half of the meat for beans in taco filling, casseroles, burgers and meatballs. This Hearty Turkey Chili features ground turkey and a blend of red kidney and cannellini beans.
7) Use black beans as the base for any Mexican dishes, such as these Black Bean & Rice Enchiladas.
8) Add beans to soup to like this Chicken, Spinach & Quinoa Soup.
For more information or if you have any questions, contact our Weis Dietitian team at weisdietitians@weismarkets.com.