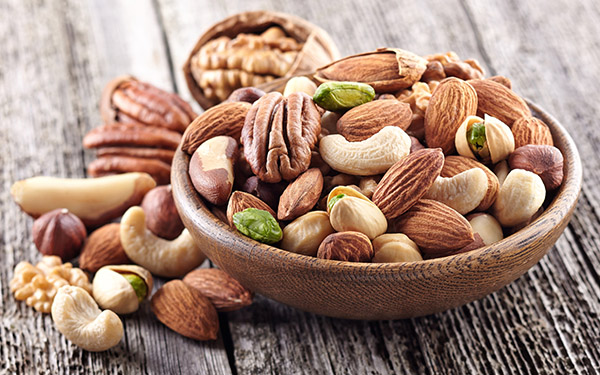 Go Nuts!

What if I were to tell you that people who ate nuts every day lived longer, healthier lives than people who didn't eat nuts? Well according to researchers—it's true!
Stock up on these feel-good favorites almonds, Brazil nuts, cashews, hazelnuts, macadamia nuts, peanuts, pecans, pistachios and walnuts for the season ahead.
Nuts make a pretty awesome snack. They are bite-sized, nutrient-dense, convenient, crunchy and have a variety of uses in the kitchen. Give one of these ideas a try:
Crush them and add to coating for fish, chicken or pork
Scatter them on anything and everything from oatmeal, yogurt parfaits, salads, stir fries, and ice cream sundaes
Mix them into store bought or homemade granola
Stir them into muffin and bread batters
Chop and add them to crisp or crumble toppings
Include them in homemade energy bite recipes
But before you toss them in a dish, toast them! Toasting nuts enhances the flavor and aroma of any dish where nuts are used.
Oven toasting: Preheat oven to 350⁰F. Spread nuts in an even layer on a baking sheet. Roast for ~10 minutes, stirring once. Remove nuts from the oven and transfer to a bowl or plate to cool.
Skillet toasting: Heat a large skillet over medium high heat. You do not need to add oil or cooking spray to the skillet. Toast the nuts in a single layer, stirring frequently, until they start to become fragrant, about 5-8 minutes.
Nuts can burn very quickly, so stay near the stove while toasting. Once cooled, store toasted nuts in an airtight container and use within a week for the best flavor.
Tips for Storing
Because of their high oil content, nuts are prone to going rancid when stored for a long period of time at room temperature. If you won't be consuming them within a few months, consider storing them in the freezer in an airtight container.
If you love snacking on nuts but want to add a little more flavor, try these tasty recipes for Cinnamon Glazed Almonds and Toasted Rosemary and Sea Salt Walnuts.

Cinnamon Glazed Almonds
Prep: 5 minutes
Cook/Bake: 20 minutes • Makes: 4 (1/4 cup servings)
1
cup whole almonds
1/4
cup sugar
1-1/2
Tbsp. water
1
tsp. ground cinnamon
Preheat oven to 250⁰F. Line a rimmed baking pan with parchment paper.
In a large skillet, stir all ingredients over medium-low heat; cook 5 minutes or until almonds are lightly toasted and well coated with cinnamon-sugar mixture, stirring occasionally. Spread almonds in a single layer on prepared pan; bake 15 minutes or until cinnamon-sugar coating is dry, tossing once halfway through cooking.
Approximate nutrition values per serving:
230 calories, 15g fat, 1g saturated fat, 0mg cholesterol,
0mg sodium, 19g carbohydrates, 4g fiber, 6g protein
Toasted Rosemary and Sea Salt Walnuts
Prep: 5 minutes
Cook Time: 30 minutes • Makes: 8 (1/4 cup servings)
2
Tbsp. unsalted butter
2
Tbsp. finely chopped fresh rosemary
1
tsp. ground black pepper
1/4
tsp. sea salt
2
cups shelled walnuts
Preheat oven to 300⁰F. Melt butter in a small saucepan; stir in rosemary, pepper and salt. Add walnuts and stir until walnuts are evenly coated. Transfer to a baking sheet and bake 30 minutes; stirring every 10 minutes. Cool completely before storing in an airtight container.
Approximate nutrition values per serving:
190 calories, 19g fat, 3g saturated fat, 8mg cholesterol,
180mg sodium, 4g carbohydrates, 2g fiber, 4g protein