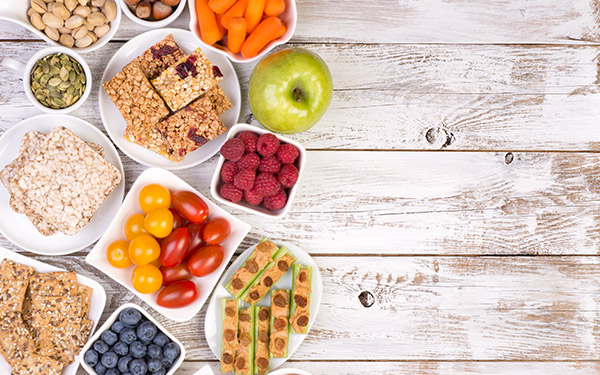 Energizing Summer Snacks

Putting some thought behind your snack choices can help you feel your best. To reap the biggest benefit from snacking, choose foods that satisfy your hunger while delivering key nutrients and an energy boost. Use our tips to enjoy snacks that leave you feeling energized and ready for adventure.

Pack Protein
Keep energy levels up by combining protein and fiber to help keep you nourished for hours.
Try:
Homemade trail mix with whole-grain cereal, nuts, seeds and dried fruit
Cheese cubes
Beef or turkey jerky
Hard-cooked eggs
Keep it Fresh
Fruits and veggies are ideal choices for snacks. Pair them with nutrient-dense dips like guacamole, hummus, nut butter or yogurt for the ultimate snack combo.
Try:
Seasonal fruit like watermelon, berries and peaches
Dried fruits
Edamame
Carrots, celery, cucumber slices, mini bell peppers
Kid-Friendly Bites
Fun and easy-to-eat snacks are best for the youngsters.
Try:
String cheese
Squeezable or drinkable yogurt
Ants on a log (celery sticks, peanut butter and raisins)
Whole-grain crackers or popcorn
Happy snacking!