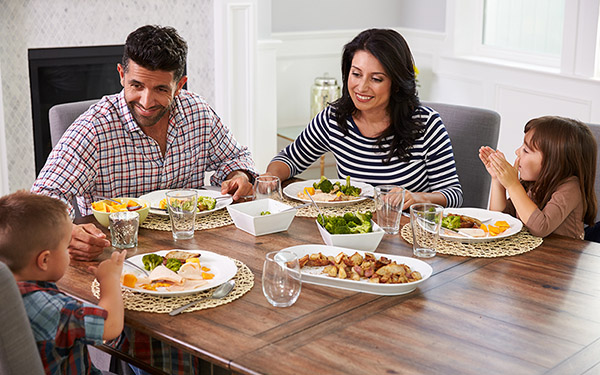 Family Meals

With families spending additional time at home, there are more opportunities than ever to sit and share a nutritious and delicious meal together. Your Weis Dietitians are here to help you plan simple meals everyone will love and won't break the bank!

Why Eat as a Family?
Eating meals as a family can have a positive impact on mental, emotional, and physical health. The family meal experience should also be a relaxing and enjoyable time, with little stress.
Some other benefits include:
Nourishing the brain, spirit, and overall health
More nutritious diet
Higher self-esteem
Sense of well-being
Positive social behaviors
Stronger family relationships
Lower rates of obesity
Improved language skills
Better grades
Make Family Meals Happen
A good goal is to aim for at least three family meals per week and remember, it can be any meal of the day! Do what works for your family's schedule, whether that's gathering together for breakfast, lunch, dinner or even a snack!
Planning your meals in advance and shopping for the necessary ingredients is one of the easiest things you can do to accomplish this goal.
Get your family involved to enhance everyone's excitement and take the burden off one person. Kids also love to get involved in the kitchen and there's a task for little ones of all ages to pitch in.
When it comes to choosing the recipes to make, check out the nutritious, affordable, family-friendly ideas from Weis Dietitians on the Weis Markets Facebook and Instagram pages or HealthyBites Magazine. Here are a few of our favorites:
Handy Tips and Tricks
Make a double or triple batch and freeze leftovers. This works particularly well for soups, chili and casseroles.
Use the slow cooker for fix-and-forget meals.
Repurpose leftovers to make another meal. For example, take leftover rice and turn it into a grain bowl the next day.
Use what you have on hand to create a meal and keep a pantry that's stocked with essentials.
Rely on time-saving recipe-ready ingredients, like these, for quick meals.
Rotisserie chicken
Canned beans
Frozen fruits & veggies
Rice or quinoa
Bagged salad greens
Pasta
Oats
As a final tip, make the family meal a device-free space that's free of the distraction that comes with use of phones, tablets or the television.
For more family meal tips or recipe inspiration, email the Weis Dietitians at weisdietitians@weismarkets.com.