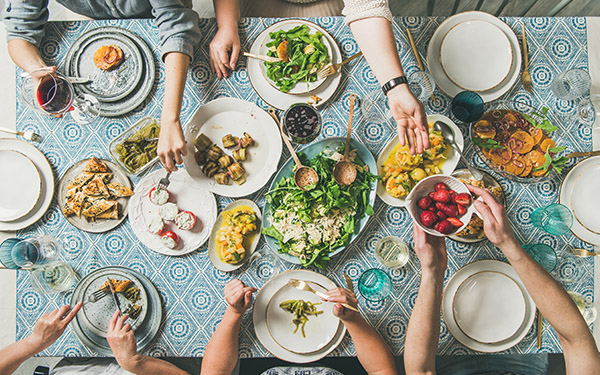 A Taste of the Mediterranean Diet

May is National Mediterranean Diet Month. This popular style of eating was ranked by U.S. News and World Report as the Best Overall Diet in 2020 for the third consecutive year. It's also earned such notable honors as the Best Diet for Healthy Eating, Easiest Diet to Follow, Best Diet for Diabetes, Best Heart Healthy Diet, and Best Plant-Based Diet.1 This "diet" is not necessarily seen as a typical diet, it is more of a lifestyle choice that can be easily maintained throughout time.

Health Benefits
The health benefits associated with the Mediterranean Diet are abundant and have been proven through many research studies. By combining a variety of nutritious foods with exercise and mindful eating in the company of others, one may reap benefits that include2:

Lower "bad" LDL cholesterol and blood pressure, reducing the risk of cardiovascular mortality from heart disease
Weight loss or weight maintenance
Reduced risk of Type 2 Diabetes
Reduced risk of developing certain types of Cancer
Improved brain function
Improved eye sight
Increased longevity of life
Increased joint relief from Rheumatoid Arthritis
How you Can Bring the Mediterranean Diet to Your Plate2
Fill at least half of your plate with colorful fruits and vegetables

Try this: Mediterranean Salad with Roasted Vegetables and Whole Wheat Couscous

Eat smaller portions of red meat, less frequently
When buying red meat, look for the leanest cuts available and trim visible fat before eating.

Try this: Grilled Steak and Avocado Summer Salad

Don't forget dairy
Try Greek Yogurt, low-fat milk and smaller amounts of low-fat cheeses.

Try this: Greek Salad Nachos

Include seafood at least twice a week
Choose heart-healthy, omega-3 fatty acid-rich fish like tuna, salmon, sardines, mackerel, herring and shellfish such as mussels, oysters, and clams.

Try this: Honey Dijon Glazed Salmon

Try a Meatless Monday
Go one day without animal products by building meals around whole grains, beans, lentils, fruits and vegetables, enhanced by herbs and spices.

Try this: Mediterranean Power Bowl

Go for the Good Fats
Replace butter with foods containing heart-protective omega-3 and omega-6 fatty acids. You can find these in foods such as nuts, peanuts, seeds, olives and olive oils and avocados.

Make Half Your Grains Whole Grains
Whole grains provide protein, fiber, and B-vitamins that keep your body satisfied longer after a meal than refined grains. Include products made with whole-wheat flour or an ingredient more traditional to the Mediterranean region like quinoa, farro, bulgur, kamut or brown rice.

Try this: Greek Farro Bowl

Rethink Your Drink- Hydrate yourself with beverages such as water, unsweetened teas, or coffee instead of options like soda and sugar-sweetened drinks.
For more easy Mediterranean Diet-inspired recipe ideas or tips, connect with the Weis Dietitians at weisdietitians@weismarkets.com
1. https://health.usnews.com/best-diet/best-diets-overall
2. https://oldwayspt.org/traditional-diets/mediterranean-diet