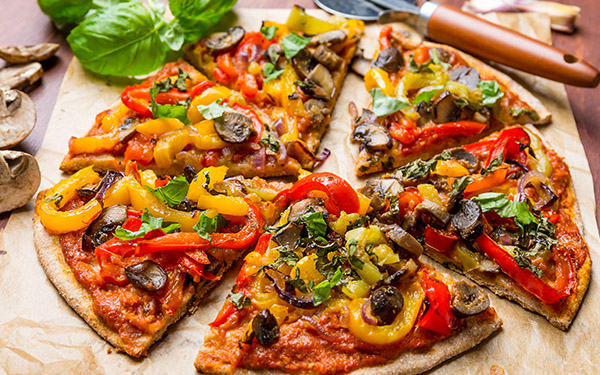 Build a Better Pizza

Pizza is a dish that's enjoyed by people far and wide. From the crust and sauce to the cheese toppings, it's also a meal solution that can be made different every time and customized to one's unique taste preferences. If you are seeking ways to change it up by incorporating more nutrient-rich toppings, get inspired by these tips to build a better pizza.
Rethink the Crust
There are many options for crust beyond a plain white flour variety. Using or ordering a whole-grain crust enhances pizza by contributing whole grains and fiber that will keep you energized and satisfied for longer. It also contains more vitamins and minerals than crust made with white flour. While different than a conventional pizza crust, another delicious, lower carb and gluten-free crust option is one made with cauliflower. Cauliflower contributes fiber, antioxidants, vitamins and minerals to your slice with a subtle earthy flavor. You can enjoy either of these crust types—whole-grain or cauliflower—by making them from scratch or opting for a ready-to-bake version.

Add Color with Veggies
The possibilities are endless when it comes to veggie pizza toppings. Some of our favorites include tomatoes, mushrooms, spinach, broccoli and bell peppers to name a few. Add them raw or lightly sauté or roast in advance to lend another dimension of flavor to the finished pie. Or for a nutritious and unique twist, take the salad pizza approach and top your pre-baked crust or freshly-baked slice with classic salad ingredients, like mixed greens, sun-dried tomatoes, olives, feta cheese and a final splash of Greek vinaigrette, for the best of both worlds!

Go Lean with Protein
Traditional pizza toppings such as pepperoni, bacon and sausage contribute higher than ideal amounts of sodium and saturated fat. Instead, give leaner turkey bacon, chicken sausage or grilled or rotisserie chicken a try and balance with a colorful array of veggies. If you've never topped pizza with a protein option from the sea, consider experimenting with shrimp, clams, mussels, tuna or salmon atop pizza with white or lemon sauce.

Sauce it Up
Traditional jarred sauces tend to contain high amounts of sodium and even added sugar. Read the label to find the lowest sodium option available that also contains no or a very low amount of added sugar. Using less sauce is another way to reduce the overall sodium content. Jarred pesto, hummus, herb-infused olive oil and lower sodium/added sugar barbecue sauce are great in place of red sauce too.

Here are a few recipes to try at home for your next pizza night!
Thin & Crispy Kale Portabella Pizza
Grilled Chicken Caesar Salad Pizza
For more pizza recipe ideas or tips, email the Weis Dietitians at weisdietitians@weismarkets.com.