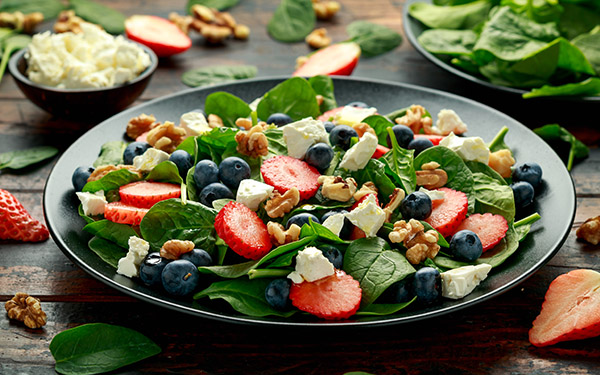 Build A Better Salad

Eating a salad a day is a great way to add nutritious and delicious fruits and vegetables into your diet. What's more? They are a cinch to add into your meal plan and super quick to assemble. Follow these tips to center your salad around an array of healthful ingredients to build a better salad.

Make it Colorful
Start with your favorite leafy greens as the base and add at least two more colorful veggies for flavor, texture and vitamins. Common toppings include carrots, cucumbers, tomatoes, peppers and red onion, or try something new with roasted butternut squash and pomegranate seeds in this Roasted Squash, Pomegranate and Arugula Salad.

Fill Up with Protein
Protein makes your salad more filling and transforms it from a side dish to main dish. Try lean meat or seafood, hard-boiled eggs or plant-based options like chickpeas, nuts, black beans, tofu, tempeh or edamame (soybeans). Shredded or cubed cheese is another tasty way to add protein to your salad. This Power Boost Salad gets its protein from a blend of eggs and chickpeas.

Use Healthy Fats
Including a source of healthful fat will also help your salad keep you fuller, for longer. Aim for sources of unsaturated fats like avocado or toasted nuts and seeds, that add a pleasing crunch. You can also add heart-healthy fats by using oil-based bottled dressings, oil and vinegar or by making your own vinaigrette in three easy steps.

Get Creative with Fruits
Adding fruit to salad is a fun way to add sweetness, color, plus additional fiber and vitamins. Dried fruit such as raisins, cherries or cranberries are perfect for sprinkling on top, or go with fresh apples, oranges, berries and even melon as a key ingredient in your salad! This Grilled Watermelon Salad is super-seasonal and a unique way to brighten up your salad with fruit.

Power it Up with Whole Grains
Using cooked whole grains, like brown rice, quinoa or farro to top a salad will elevate it from standard to sensational. Not only do the grains add flavor, texture, fiber and vitamins, they also give the salad more bulk, so you feel more satisfied after enjoying it. Try this trick with our Grilled Italian Chicken Grain Salad.