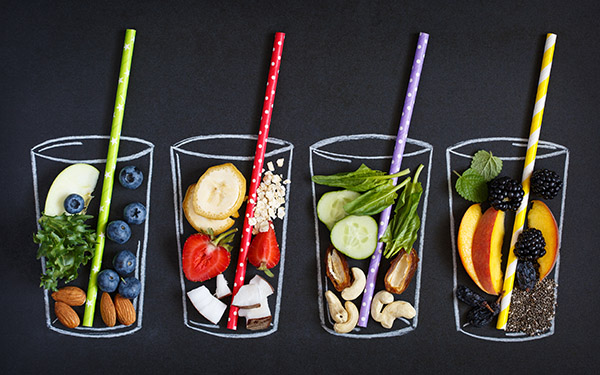 Refreshing Summer Smoothies

Looking for a quick and satisfying snack or meal? Blend up a smoothie! Cool, creamy and refreshing smoothies provide an easy way to include more fruit and vegetables in your day and are so enjoyable on a hot summer day. Read on to find out how to make a healthful and delicious smoothie.

Choose a Base
Start with a protein-packed base, like Greek yogurt, milk or soymilk to ensure your smoothie keeps you feeling fuller, longer. When using 100 percent juice, combine it with one of these options for a satisfying protein boost.

Get Creative with Fruit
Fruits are a no-brainer when it comes to smoothies. They blend easily, enhance the flavor with natural sweetness and add plenty of vital vitamins, minerals and fiber. Make a triple-berry smoothie with strawberries, raspberries, and blueberries. Or try mango, pineapple and banana for a tropical-tasting smoothie. To thicken smoothies without ice, use frozen fruit, such as berries or bananas. Try this Piña Colada smoothie recipe that features fresh or frozen pineapple.

Bulk Up with Veggies
In addition to fruit, smoothies are a great vehicle for boosting your daily vegetable intake. Tender baby spinach is an easy vegetable to include due to its mild flavor and blendability. You could also try de-stemmed kale, or shredded carrots or zucchini. Strongly-flavored vegetables like broccoli, cabbage and others are not generally favored for smoothies. This vibrantly-colored Power Green Smoothie shows you how easy it is to make a smoothie with spinach.

Use Nutritious Mix-Ins
Go beyond produce and boost the nutrient content of your smoothie with chia seeds, ground flax seed or hemp seeds to contribute heart-smart fats and fiber. Nut butters such as peanut butter or almond butter also add those same healthful fats and plant-based protein, plus a pleasing nutty flavor. Or blend old-fashioned or quick oats into your smoothie to turn up the fiber and give it a rich and thick consistency. Give it a try with this Peanut Butter Oat Smoothie.
For more smoothie-making tips or recipe ideas, email the Weis Dietitians at weisdietitians@weismarkets.com.