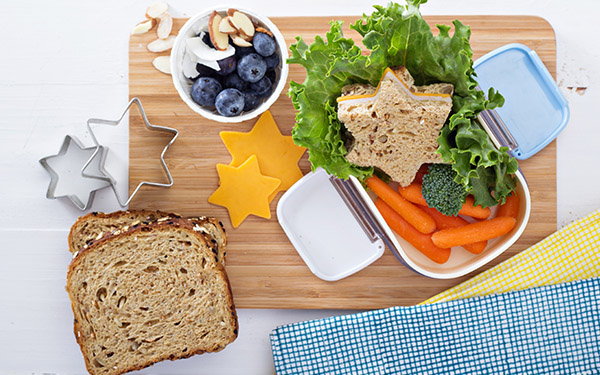 Better Back-to-School Lunchbox

Back to school can be a busy time of year. If your kiddos will be packing their lunches for school, the Weis Dietitians have a variety of creative ideas to get you started. Kids can even get involved in the preparation and packing!

Benefits
Besides being fun, healthy lunches are beneficial to our bodies! Consuming a lunch packed with nutritious foods from a variety of food groups can contribute to:
Energy to power through the school day
Growth and development
Overall wellness and illness prevention

Simple Ideas
Packing a delicious and nutritious lunch doesn't have to be difficult. Follow this simple equation: Whole Grain + Protein + Fruit + Vegetable + Optional Treat and you'll find the possibilities are endless! Plus, you can customize the lunch to fit your child's tastes and allergies.

Some tips to remember:
Choose whole grain wraps, bread, tortillas, rice, pasta and snacks.
Go beyond meat and include plant-based protein options like nut butters (if allowed), seed butters, beans, soy and more.
Enjoy fruits/vegetables in any form, including fresh, canned, dried and 100% juice.
Small, portion-controlled treats like fruit snacks, small candy bars and others are welcome in moderation.
Pack hand-sanitizer or wipes to keep hands and surfaces free of germs.
Check out these tasty ideas to build-a-better-lunch this school year:
Wraps (sweet or savory)
Pasta Salad
Yogurt Parfait
No-Bake Energy Bites
Kabobs (fruit, veggies or lunch meat)
Dips (sweet or savory)
Muffins
Make Your Own Trail Mix
English Muffin/Bagel Pizzas
Grain Bowl
Ants on a Log Reinvented
Cut washed celery into sticks and fill with the ingredients/toppings below.

Berries on a Branch (vanilla Greek yogurt, blueberries, sliced almonds)
Beans on a Stalk (guacamole, black beans)
Fish in a Stream (hummus, goldfish crackers)

Bento Box Compartment Lunch

Whole Grain + Protein + Fruit + Vegetable + Treat (optional)
Examples

Popcorn + Hummus + Roasted Chickpeas + Celery + Pineapple

For more tips and recipe ideas, check out these articles and recipes from Weis HealthyBites Magazine or email weisdietitians@weismarkets.com
July-August 2020
http://healthybites.weismarkets.com/20Jul/Page-20
July-August 2019
http://healthybites.weismarkets.com/19Jul/Page-22
July-August 2018
http://healthybites.weismarkets.com/18Jul/Page-18
Little Italy Pasta Salad
https://www.weismarkets.com/recipes/little-italy-pasta-salad/24756
No-Bake Energy Bites
https://www.weismarkets.com/recipes/no-bake-energy-bites/14599
Turkey-Hummus Veggie Pinwheels
https://www.weismarkets.com/recipes/turkey-hummus-veggie-pinwheels/14518