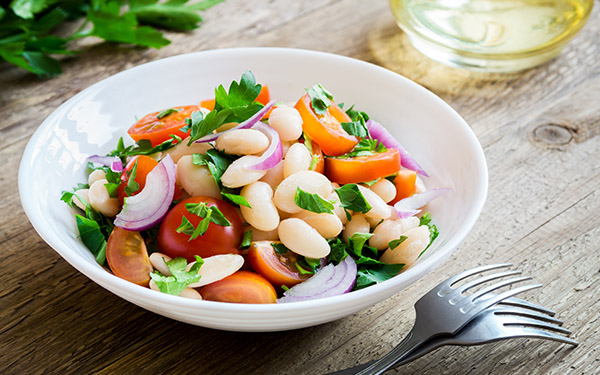 No Cooking Required

Due to hectic schedules and our overall fast-paced culture, no-cook meals have gained popularity as a quick and easy way to get dinner on the table. They're also a great solution for hot summer days when you don't want to heat up your kitchen. Check out these helpful hints for preparing no-cook meals that satisfy and are a breeze to make.

Pantry Staples
The first step is to maintain a well-stocked pantry. Include various types of beans, lentils, vegetables, canned fish or chicken, nuts, whole-grain crackers or pitas and other canned goods that make it easy to build a nutritious meal without having to use the oven or grill. Don't forget to include an array of oils, vinegars, sauces and dressings that allow you to experiment with unique flavors to bring your dishes to life.
Try this Black Bean and Corn Salad: https://www.weismarkets.com/recipes/black-bean-and-corn-salad/6871

Simple Salads
When we think of no-cook meals, a salad may be the first thing to come to mind. Switch it up from your typical salad of leafy greens and use shredded cabbage, broccoli, carrots or zucchini noodles as the base. Then layer in your favorite veggies, along with leftover cooked brown rice or quinoa and recipe-ready protein like salmon or tuna from a pouch, beans or edamame. Instead of croutons, try nuts or seeds to turn of the texture and flavor with an added boost of heart-smart fats and fiber. Instead of a bowl, serve the salad in a whole grain wrap use it to fill a whole-grain pita pocket.
Try this Zoodle, Chickpea and Avocado Salad:
https://healthybites.weismarkets.com/home/zoodle-chickpea-avocado-salad/

Make a Grazing Board
Simply an arrangement of foods that are served on a cutting board or other surface, a grazing board is the ultimate, no-cook, family-pleasing meal. Follow the formula of whole grains, fruits and/or vegetables and protein to create a beautiful board with ease or give one of these a try:
Family Dinner Board
Whole-Grain Pita Bread Triangles + Sugar Snap Peas + Carrot Sticks + Cubed Cheddar Cheese + Grapes+ Turkey Jerky + Roasted Almonds + Hummus

Date Night Board
Whole-Grain Crackers + Strawberries + Raspberries + Cubed Gourmet Cheese + Charcuterie Meats + Shelled Pistachios + Dark Chocolate

Kid-Friendly Snack Board
Whole-Grain Pretzels + Vanilla Greek Yogurt + Sliced Peaches + Watermelon + Roasted Peanuts

Try New Recipes
Broaden your palate by finding new no-cook recipes on your favorite recipe website, blog or Pinterest board. Stepping outside your comfort zone and exploring unfamiliar cuisines brings a whole new level of fun to the meal and may guide to a future favorite recipe. Check out this recipe for a chilled soup, called gazpacho, that shines with fresh, summer corn, tomatoes, bell peppers, basil and more!
Try this Spicy Sweet Corn Gazpacho:
http://healthybites.weismarkets.com/18Jul/Page-12