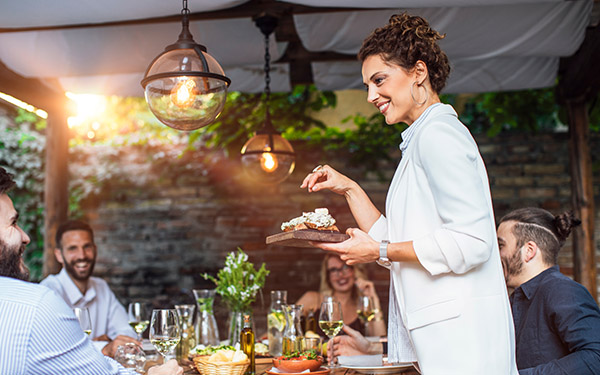 Hosting a Gluten Free Guest

Are you hosting a friend or family member that follows a gluten-free diet? Planning your menu doesn't have to be a challenge. Here are some tips to ease your stress and serve a safe meal for your gluten-free guest.
Gluten is a protein found in wheat, barley, and rye. Individuals with celiac disease are unable to digest this protein properly and must follow a strict gluten-free diet to preserve the function of their small intestine. Others may avoid eating gluten-containing foods due to digestive issues that aren't related to celiac disease or a lifestyle preference.
Common gluten-containing foods include bread, pasta, cookies, pretzels and crackers. The hidden sources of gluten that make it tricky for hosting a gluten-free guest include condiments like soy sauce, salad dressing, marinades, soups and broths, bread crumbs and some seasonings. Label reading is critical in order to identify gluten-free options in these food categories.
While there are many foods that contain gluten, there are also plenty of nutritious, naturally gluten-free foods throughout the aisles of the supermarket. Specific examples include plain rice, quinoa, fruits, vegetables, cheese, eggs, beans and plain, unseasoned/unbreaded meat, poultry and seafood. You can also find a wide variety of gluten-free alternatives like pasta, crackers, baking mixes, flour, soy sauce and more to replace foods that usually contain gluten.

When planning your menu, keep these things in mind:
Aim to include some naturally gluten-free dishes and invite your guest to bring a favorite dish or two to share.
Prevent cross contamination with any gluten-containing dishes by preparing all gluten-free recipes at the same time and away from any ingredients that are not gluten free.
Use clean bowls, utensils and cutting boards and choose plastic or rubber utensils instead of wooden ones.
When everything is ready, clearly identify which menu items contain gluten and allow gluten-free quests to serve themselves first.
Weis Markets has made it even easier to shop for gluten-free foods. Check out the dedicated gluten free aisle in the store, or look for the brightly-colored Gluten Free icon that's located right on the price tag. You can also connect with a Weis Dietitian to help plan your gluten free menu by emailing weisdietitians@weismarkets.com.