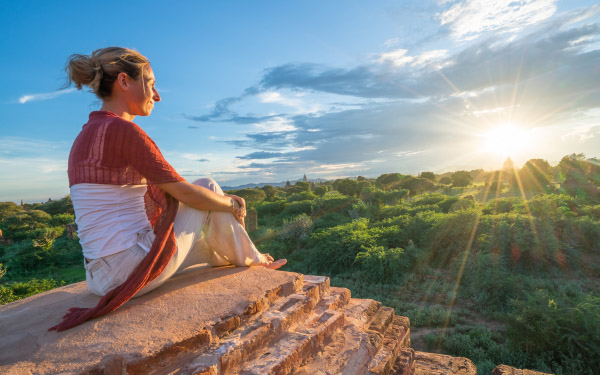 10 Intentions for the New Year

Instead of falling back on conventional resolutions, kick off 2020 with meaningful intentions that help you stay physically, emotionally, and spiritually balanced year-round. Draw inspiration from our ten suggestions and try to implement those that bring out a healthier and happier you.

1. Invest in My Community
Bettering your community through acts of good provides a sense of purpose and improves mental health. Volunteer at a food bank, children's hospital or pet shelter, or do something special for veterans, police officers and firefighters. Being a part of something bigger than yourself delivers priceless rewards.

2. Practice Gratitude
The act of being grateful improves physical and psychological health, mental strength, self-esteem and reduces stress levels. Whether it's acknowledging all of the blessings in your life or writing a few sentences in a gratitude journal, giving thanks can be incredibly transformative for your overall well-being.

3. Make Time for Myself
There's often stigma connected to doing things solo; however, setting aside time for yourself helps you build self-love, provides a sense of freedom, and with minimal distractions, helps you become more creative. Whether it's going to the museum or completing a DIY project, pencil yourself in for more "me time."

4. Digital Detox
Studies show that the mere presence of an electronic device generates diminished attention and lowers task performance. Boost your productivity and mental well-being by taking small steps to disconnect. Throughout the day, aim to check your phone only five times, resist checking or posting to social media or turn off your devices for the entire day.

5. Rest and Renew
Sleep is vital to functioning at your best; however, more than half of the country's adult population has trouble getting a good night's sleep. Implement techniques like waking up and going to bed at the same time daily, ensuring your room is
dark and quiet or practicing bedtime rituals like meditating or stretching.

6. Embrace Newness and Change
Learning something new changes your brain chemistry and helps you grow as a person by developing your knowledge base, fueling creativity and building confidence. Whether it's speaking a new language or picking up new hobbies like yoga, gardening or playing a new instrument, challenge yourself to something new and out of your comfort zone.

7. Be Mindful
Practicing mindfulness involves being aware of the present moment instead of getting caught up in thoughts of the past or worries of the future. Reduce stress levels and boost cognitive abilities with brief mindfulness practices like noticing your breathing and purposeful observations that keep you in the present moment.

8. Stay Steady and Focused
Sometimes, life moves at such a fast pace that we don't take the time to truly enjoy it. In the coming year, take time to notice life's simple pleasures like taking a long, relaxing shower, enjoying a freshly brewed cup of coffee, or eating with your eyes closed to take in all of the different sensations. Slow down to find pleasure in anything and everything.

9. Connect with the Outdoors
Spending more time outdoors is an easy way to improve health, as it reduces risks of chronic diseases, increases sleep duration and alleviates stress. Get outside more often by going on a daily walk, planning at least one outdoor activity every weekend, and eating meals outside when the weather permits.

10. Give and Receive Love
Quality time spent with family instills a sense of belonging, builds self-esteem, nurtures positive behaviors, and creates priceless memories that will last a lifetime. Whether it's playing games, sharing stories or just being together, make it a goal in the coming year to devote more quality
time to the ones you love.