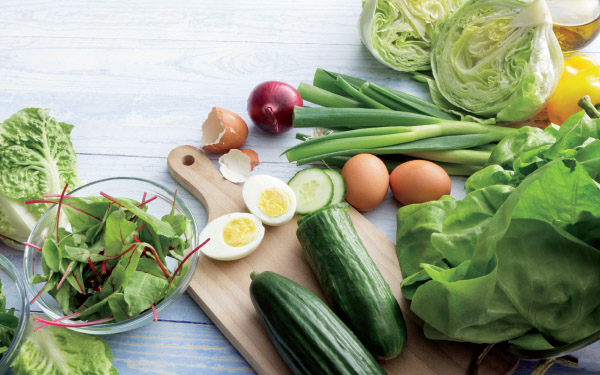 Build a Better Salad

With infinite ingredient combinations, there are several different ways to switch up seasonal salads with flavors and ingredients that offer the protein and essential nutrients your body needs. Enjoy a better salad with some of our satisfying suggestions.

Lean Proteins
Lean proteins are known for increasing satiety and boosting metabolism. To transform a side salad into a hearty main entree salad, layer it with grilled chicken, pork tenderloin, flank or skirt steak or eggs. A salad topped with grilled shrimp, salmon or firm white fish also can't be beat.

Legumes
Beans supply plant-based protein and fiber that keep you full longer. From black beans and pinto beans to chickpeas, soybeans and navy beans, there are plenty of options to pack your salads with fueling plant protein. Prepare our zoodle salad recipe on page 11 see how chickpeas add a hearty texture and pleasing flavor.

Nuts, Seeds & Fruit
Nuts and seeds contribute much flavor, texture and excitement to an ordinary salad. Choose options like sunflower seeds, almond slivers and pistachios, as well as walnuts and pecans. Along with plant-based protein, nuts like walnuts and pistachios also add healthful ALA omega-3 fatty acids. Fresh and dried fruits complement salads with a bit of sweetness. Experiment with different varieties such as apples, mangos, oranges and berries, or dried fruits like cherries or apricots.

Dressings
Bottled dressings can be high in saturated fat, sodium and added sugars. For a fresher-tasting option, make your own vinaigrette or dressing from scratch. For a flavored vinaigrette, try whisking red wine vinegar, honey, Dijon mustard, salt and pepper. Slowly drizzle in olive oil, then stir in crumbled feta and the fresh herbs of your choice. Get creative with oils and use grapeseed, safflower or sunflower oil that offer added benefits. Or, try a variety of vinegars like apple cider, balsamic or white wine. Give your dressings sweetness with maple syrup or orange zest for a kick of citrus. There's no end to the combinations you can customize!

Make Your Own Vinaigrette In 3 Easy Steps!
1: Build a Flavor Base
Use Dijon Mustard, Crushed Garlic, Chopped Herbs, Salt, Pepper, Diced Shallots, or Fresh Ginger.

2: Add an Acid
Start with a standard ratio of 3 parts oil to 1 part vinegar/citrus juice and adjust as desired.
Try Balsamic Vinegar (for rich flavor), Rice Vinegar (has a tart flavor), Lemon, Lime or Orange Juice, White Balsamic Vinegar (sweet & sour), White Wine Vinegar (fruity flavor), or Red Wine Vinegar (mild & tangy).

3: Whisk in Oil
Slowly stream in the oil while whisking constantly to blend.
Use Grapeseed Oil (mild flavor), Extra Virgin Olive Oil (robust flavor), Canola Oil (mild flavor) or Sesame oil (nutty flavor).
Store homemade vinaigrettes and dressings up to 2 weeks. Simply whisk or shake well to blend before use.