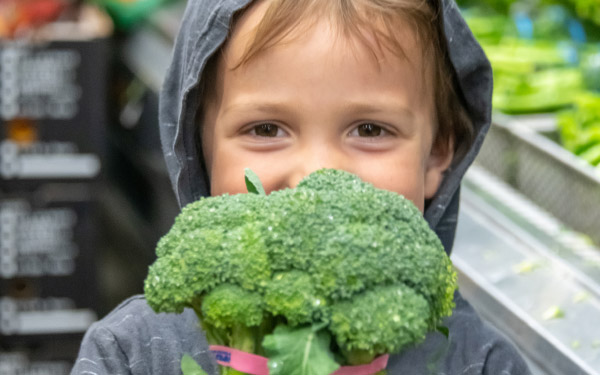 5 Ways to Get Kids to Eat More Veggies

Kids are notorious for disliking vegetables, and it can be a struggle to get them to eat a sufficient serving of veggies that will help them grow, develop and function at their best. Increase your kiddos veggie intake with these mealtime ideas that are both nutritious and kid-approved.

1. Be a Model for Healthy Eating
Research has shown that children whose parents modeled healthy eating behaviors were more likely to meet their recommended daily intake of fruits and vegetables. Simply showing kids that you enjoy eating vegetables and are willing to try new, healthy foods can influence their outlook in a positive way. This strategy also goes a long way in shaping your kids' future eating habits.

2. Dip into Veggies
Research by the Academy of Nutrition and Dietetics found that the consumption of vegetables increases when paired with a dip. Dips not only provide a multi-sensory experience, but they also add more flavor and are quick and easy to prepare. Try yogurt-based dips, salsas with onion and corn, nut butter or hummus.

3. Cheese, Please!
From pizza and grilled cheese to mac and cheese, many kid-favorite meals have a pattern: cheese! Whether it's Parmesan sprinkled onto zucchini slices or our Baked Cheesy Potatoes and Broccoli recipe below, give your cheese-loving kiddos the nutrients they need, topped with a little cheesy satisfaction.

4. Encourage Ownership
Involve your kids in selecting the vegetables they want to try. Whether they choose the recipe, the dinner theme or roll up their sleeves to help prepare it, they'll be more likely to eat their veggies without a fight.

5. Veggies in Disguise
If you've tried it all and nothing has worked, adding vegetables to recipes where kids won't even notice them may be an efficient solution. Combine shredded zucchini or carrots into muffins, give pancakes a "red velvet" appearance with beets, mash cauliflower into mashed potatoes, or blend a variety of mild-tasting vegetables into breakfast smoothies.