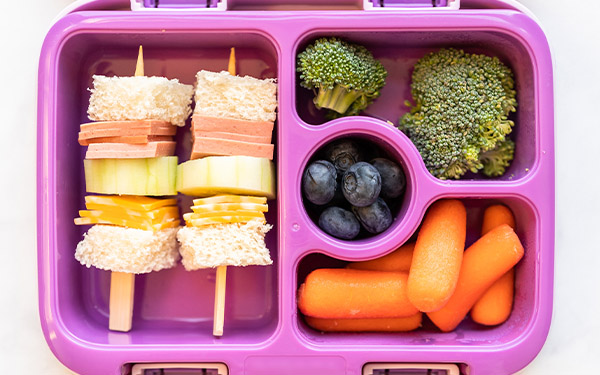 Quick & Easy Lunch Ideas

Do your kids get tired of the same repetitive lunch choices? If hectic schedules get in the way of packing tasty and healthy lunches, we've got you covered. As the kids head back to school, expand your master lunch list with these quick and easy ideas.
Lunch on a Stick
Finger foods are a kid-favorite, and skewers make a great lunch option that's easy to assemble and customize. Change it up throughout the week and try these different ingredient combinations:
• Sunflower butter and jelly sandwich skewers: whole wheat bread, sunflower butter, strawberry preserves, raspberries and apple slices
• Turkey sandwich skewers: deli turkey, Cheddar cheese, grape tomatoes, cucumber, bell peppers, romaine lettuce and honey mustard for dipping
• Philly cheesesteak skewers: meatballs, green bell pepper, yellow onion, provolone cheese and French baguette

Mini Pizza with Big Flavor: Little ones go crazy for pizza and all things mini, so they'll devour mini pizzas at lunchtime! To make mini BBQ chicken pizzas, top whole wheat English muffins with Weis2Go rotisserie chicken breast meat, barbeque sauce, low-moisture part-skim mozzarella cheese and red onion. For a healthy dose of fruits and veggies, add sides like pineapple slices, carrots and ranch dressing for dipping.

Waffle Sandwich: Your kids will love this breakfast-as-lunch sandwich! Frozen waffles don't have to be limited to breakfast; they make the perfect vehicles for any type of sandwich at any time of day. For a BLT version, top a multigrain waffle with bacon, Roma tomatoes, romaine lettuce and mayonnaise and top with another waffle. Round out the meal with grapes, bell pepper slices and hummus.

Bento Boxes: Bento boxes (home-packed meals originating in Japan) make back-to-school lunches a breeze. Made of small, kid-friendly compartments that organize every part of the meal, bento boxes are convenient to make and easy for the kiddos to enjoy. Experiment with different protein, fruit, veggie, and dip or sauce combos. Try a tuna salad sandwich with cucumber slices and melon salad in the other compartments, or quesadilla pinwheels with pineapple slices and guacamole.