Kids' Bites Apple-Solutely Delicious
It's officially apple season!
They're the perfect snack for any time of the day or before any activity. Apples are deliciously packed with nutrients like vitamins and minerals that will keep you feeling energetic and strong. Apples can be used in many tasty ways. Get in the fall spirit by giving these recipes a try!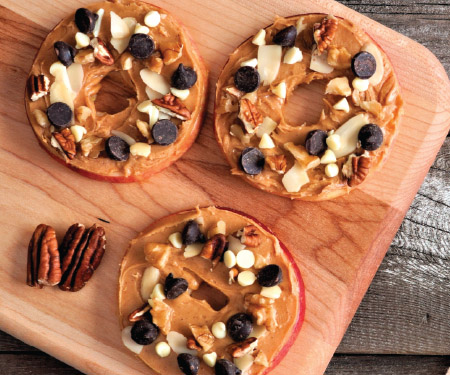 Apple "Donuts"

WHAT YOU NEED:
Apples, cut into thick discs (remove core)
Your favorite nut butter or spread (peanut butter, almond butter, hazelnut spread, yogurt, etc.)
Cinnamon
Creative toppings (chocolate chips, sprinkles, chopped nuts, granola, etc.)

PUT IT TOGETHER:
Cut your apples into discs and remove the core. You may need to ask a grown-up for help! Top your apple discs with your favorite nut butter or spread, a sprinkle of cinnamon, and some creative toppings. Bonus: Add an extra apple disc on top to make it a sandwich.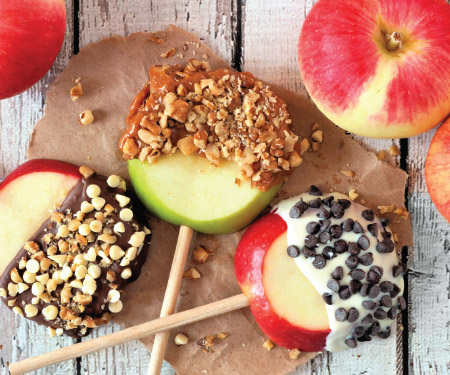 Apple Lollipops

WHAT YOU NEED:
Apples, cut into slices
Lollipop sticks
Melting chocolate
Caramel
Extra toppings
PUT IT TOGETHER:
Slice your apples lengthwise, making circular slices of apples starting from the edge.Insert lollipop sticks into the bottom of the slices. Dip your apple slices into chocolate and allow to dry. Then, decorate with caramel and any of your other favorite toppings! Don't forget to ask a grown-up for help if needed.
For more snack ideas like these or kid-friendly recipes, email the Weis Dietitians at weisdietitians@weismarkets.com.