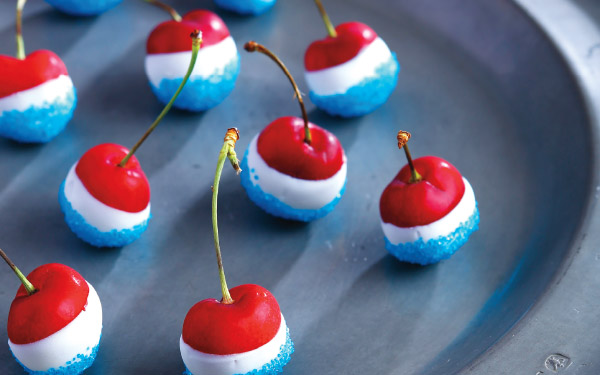 Festive 4th of July
5 Kid-Friendly Craft Ideas to Celebrate the 4th of July
This Independence Day, let the kids get hands-on with 4th of July crafts that celebrate the holiday and creativity.

1. Patriotic Pots
Greet guests with bright, patriotic pots! Have children paint Mason jars or clay flowerpots with acrylic paint using brushes or paint sponges. Display patterns to copy, such as horizontal or vertical red and white stripes or all-over blue adorned with white star stickers once dry. While white paint is still tacky, sprinkle with glitter. Once painted, use the pots or jars to hold miniature American flags.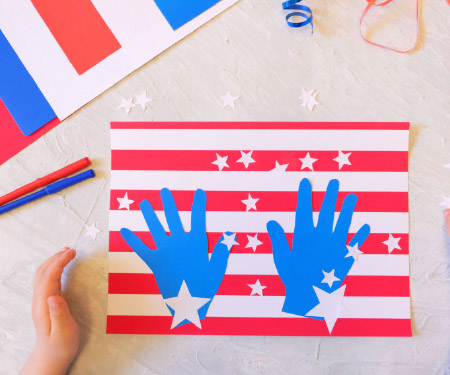 2. Personalized Placemats
Print stacks of 4th of July coloring pages for the younger kids to color with crayons, markers or watercolors. Provide gold or silver star stickers or glitter glue sticks to bling out the pages, then sandwich the signed artwork between two sheets of clear contact paper, cut to fit. Use as placemats for your holiday gathering.

3. DIY T-Shirts
Older kids will enjoy creating their own patriotic T-shirts. In a safe workspace, lay out unsharpened pencils with unused erasers on the ends. You'll also need some star shapes cut from cardboard (cardboard from cereal or pasta boxes works well). Place double-sided tape on the back of the stars and affix to the middle of the T-shirt. Slip a square of cardboard into the middle of the shirt so paint doesn't soak through. Set out two shallow bowls of fabric-friendly red and blue paint and instruct the children to dip the pencil eraser into the paint, then dot onto the shirt all around the star stencil. (Only dip the pencil erasers into one color each to avoid purple dots!) When fully decorated and dry, remove the stencil and let the kids wear their patriotic artwork.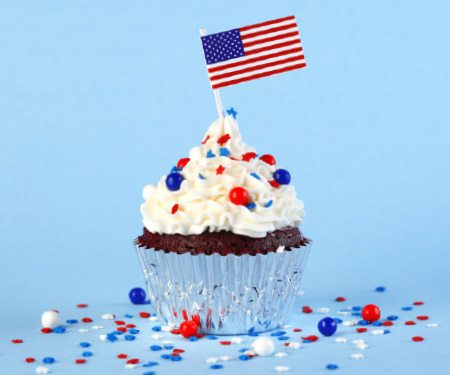 4. Sweet Treats
For fun holiday treats, make cupcakes ahead of time and decorate with white frosting. Have bowls of red and blue sprinkles, colored sugar and fruits such as blueberries or raspberries for the littlest ones to decorate their own cupcakes.

5. Outdoor Party Games
Finally, enjoy outdoor playtime activities. Fill red, white and blue water balloons, place in a basket and let kids play water balloon tag or toss. Or make a giant outdoor tic-tac-toe board with rope cut to provide the grid, and then wooden or craft foam X and O letters in red, white or blue.

Cherry Bombs
Sweet cherries with stems intact
White chocolate
Blue sprinkles
1. Wash and dry cherries.
2. Melt chocolate as label directs.
3. Dip bottom two-thirds of a sweet cherry into melted white chocolate.
4. Immediately dip bottom one-third of the cherry into blue sprinkles.
5. Let dry on cookie sheet lined with parchment paper.