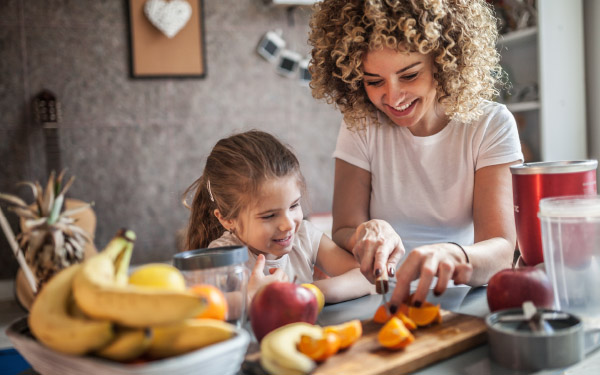 March is National Nutrition Month

Celebrated during March of every year, National Nutrition Month® focuses on the importance of making informed food choices and developing sound eating and physical activity habits. What began as a week-long campaign in 1973 evolved into an entire month by the year 1980 because of its popularity. The Academy of Nutrition and Dietetics (formerly known
as the American Dietetic Association) is the sponsor
of this awareness campaign and enthusiastically embraces this concept to deliver health and wellness messages to communities across the nation.
The theme of National Nutrition Month for the year 2020 is "Eat Right, Bite by Bite," communicating the impact that small changes can make on your health and nutrition goals. Besides disease prevention, positive eating habits and a nutritious diet offer benefits including a healthy heart, a stronger immune system, increased energy, better sleep and improved cognitive function. During National Nutrition Month, use the following tips to improve your overall nutrition and enjoy a well-balanced lifestyle.
Embrace Healthy Alternatives & New Recipes
Swapping out ingredients with healthy alternatives is an easy way to make everyday meals more nutritious. Enjoy your favorite recipes with simple substitutions like whole wheat pasta instead of white or nonfat plain Greek yogurt in place of sour cream. Preparing new recipes is another way to bring excitement and nourishment into the kitchen. Whether it's trying one substitution every meal or a different healthful recipe each week, get inspired throughout the year with meal ideas and helpful nutrition tips from our HealthyBites™ magazines.

Get Active, Step by Step
Health doesn't stop at the foods we eat. According to the U.S. Department of Health and Human Services, adults should participate in at least 150 minutes of moderate-intensity aerobic physical activity per week. Nurture your body by incorporating more simple movements into your daily routine. Take a walk during your lunch hour, have a dance party with the kids, or try new activities like boxing, cycling or yoga.

Meet with a Weis Dietitian
For individualized nutrition advice, meet with a credible registered dietitian nutritionist. They will be able to offer science-based recommendations that ensure you're receiving the proper balance of nutrients and physical activity that supports your specific lifestyle needs or preferences. The expert team of Registered Dietitian Nutritionists at Weis can provide you with the guidance and tools you need to shop, cook and eat healthfully.