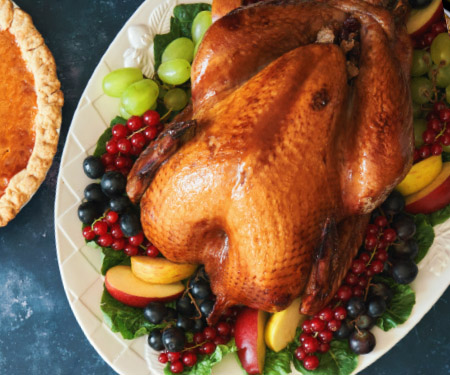 4 Tips to Enjoy a Diabetes-Friendly Turkey Day
November is Diabetes Awareness Month. For people living with diabetes, managing blood sugar levels during holiday meals can be challenging. However, having diabetes doesn't mean you have to miss out on the tasty Thanksgiving spread. Focus on nutrition, moderation and simple swaps. Use these tips to enjoy a festive holiday feast without worry.
1. Plan Your Plate: Meal planning is one of the best ways to support steady blood sugar. Maintain blood sugar levels with lean proteins, vegetables, whole grains, high-fiber foods and healthy fats. Try to portion half of your plate with non-starchy vegetables like asparagus, spinach, cauliflower and mushrooms. Then, fill the rest of your plate with protein and smaller portions of starchier favorites like mashed potatoes and stuffing.
2. Be Consistent: The timing of holiday meals and gatherings is often outside of typical mealtimes, so plan meals and snacks accordingly to combat blood sugar highs and lows. Above all, it's important to not skip meals.
3. Lighten Things Up: Prepare a diabetes-friendly dish or two that fit into your meal plan to share with others. Here are some ideas for making healthier holiday favorites:
• Transform a traditional green bean casserole by using low-sodium vegetable broth and milk instead of cream of mushroom soup. Inject more flavor with sautéed onions and mushrooms, then top it off with baked, chopped onions for a crispy topping.
• Use whole wheat bread to add fiber to stuffing or replace the bread altogether with brown rice. Another way to reduce carbs in your favorite stuffing recipe is to replace a portion of the bread with chopped onions or vegetables.
• Lighten up mashed potatoes using a combination of mashed cauliflower, parsnips, celery root and rutabaga for a similar taste and texture with fewer calories and more nutrients.
4. Move More: Though it's tempting to lounge after your Thanksgiving meal, try to incorporate some movement into your celebration. Engaging in physical activity after your turkey day feast, like a family walk or game of catch, can help digestion as well as reduce stress.
No matter what time of year it is, the Weis Dietitians can help you make every day and every meal more diabetes-friendly.